Ohio Valley Solar is a solar energy company serving Newburgh and Evansville, Indiana and other surrounding areas as well. Our team is certified and experienced in the solar panel industry. We offer complete grid-tied and off-grid solar panel systems.

In the early days of Ohio valley solar, Our company was a small solar installation start-up based in Newburgh and Evansville, Indiana. Our team consisted of the founder, some solar panel specialists, and some electricians. They were passionate about promoting renewable energy and helping homeowners.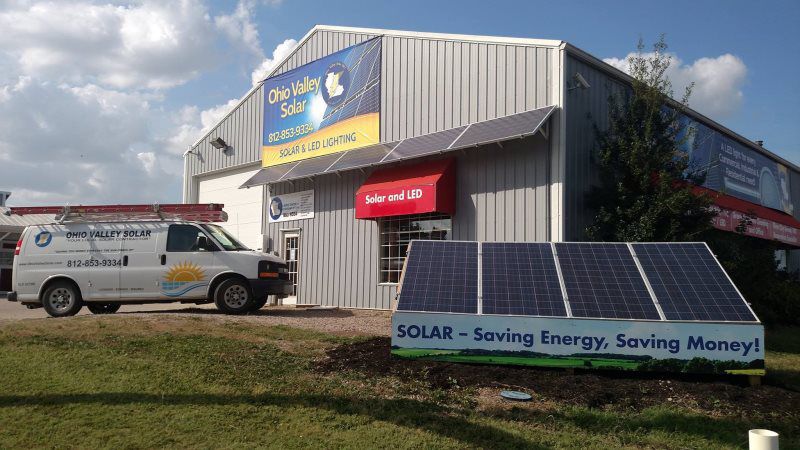 Despite our limited resources, our team worked hard to install solar panels on local homes and businesses rooftops. We focused on providing high-quality products and services. We quickly gained a reputation for professionalism and expertise. As word of mouth spread, our company began to grow. In the following years, Ohio valley solar continued to thrive. We always focused on innovation and sustainability.


Please don't hesitate to contact us or fill out the contact form. We are happy to help you with all your solar power needs.
We believe that Solar energy is a great way to power buildings not just economically but also sustainable. Ohio Valley Solar's mission is to promote sustainable living and show the world how solar energy can be used in everyday life. Our team works hard to ensure our products are of the highest quality and use only the best materials available. We provide over 13 solar panels providing over 4,000 watts of clean solar energy. We assure you that your investment will pay off with huge savings on your electricity bill.
We provide over 13 solar panels providing over 4,000 watts of clean solar energy. We also assure you that your investment will pay off with huge savings on your electricity bill.
Our commitment to recycling 95% of construction waste guarantees an environmentally friendly experience.
At Ohio Valley Solar, we go above and beyond to provide top-notch installations and maintenance services. We offer a wide range of solar panel and solar generator options so that you can find the perfect fit for your home or business. Our team is here to guide you through every step of the process from consultation to installation. So that you can make an informed decision about which product will best suit your needs. Visit us today to take a look at our working solar demonstration display and learn more about what Ohio Valley Solar has to offer!

With Ohio Valley Solar, you get reliable energy solutions with unbeatable savings on your KWH cost — up to 60%+ in some cases! So why wait? Make the switch today and join us in our mission to create a more sustainable world. Contact us now for more information!
Ohio valley solar has a vision of creating a future using renewable energy. We focus on solar energy, which reduces our reliance on fossil fuels.

Our company helps in reducing the cost of energy and increasing energy independence. It involves developing new technologies and designing innovative financing models. Our vision is to transform many people's lives with our innovative energy solutions.
Our company prioritizes quality, customer satisfaction, innovation, and environmental sustainability. We also know our social responsibility, transparency, and integrity.
These values help us deliver the best products and services to our customers. We emphasize using top-rated equipment and providing thorough and professional installation and maintenance. We also focus on staying up-to-date with industry advancements. In addition, we prioritize giving back to the community and maintaining high ethical standards. Our Responsiveness and Proactive nature always help customers to develop mutual trust.
Check out our Display Located at: 7765 Park Place Dr. Newburgh, IN 47630